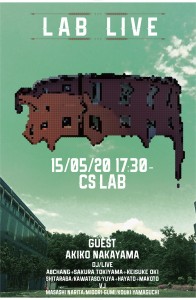 CSLABにてライブを行ないます!!
日時
5月20日 17時30分
タイムテーブルは以下の通りです
17:30〜Shitaraba(60min)
18:30〜Akiko Nakayama(30min)
19:00〜A8Chang+Sakura Tokiyama+Keisuke Oki (40min)
19:40〜Kawataso(50min)
ゲスト
中山晃子(Akiko Nakayama)
色彩と流動の持つエネルギーを用い、生きている絵を出現させるアーティスト。
パフォーマンス、写真、映像、と扱うメディアは多岐に渡るが、一貫して多種多様な原因と結果を描き、要素の流れがもたらす生きる姿をあらわす。
主な活動である"Alive painting" では、様々な性質を持つ液体を流転させ、互いが互いの性質を引き受け合い、一瞬一瞬変容する絵を場に描く。
近年では、色彩の差異を即時的に画像解析、デジタル処理することによって音を発生させるカラーオルガンシステム "Fluid2wave"をエンジニアと共に開発し、
音も絵も同時に奏でるソロパフォーマンスを行う。
With energy of movements, and colours, Akiko Nakayama is an artist vivifies pictures.
Her main activity is "Alive Painting". Using several kinds of liquid with different characters, this activity depicts the shapes of existences resonating each other.
Her themes are the relationships that reacting in every-moment, and the pleasures of beauty appear at that moment.
In recent years, she does solo-performances using colour-organ system, "Fluid2wave". This system produces sounds by digitalizing differences of colours directly.
She also collaborates with artists in different genres, performed in Roppongi Art Night, Audiovisual media festivals. Not only performing in Japan, but also in overseas.
Her areas of activity are expanding.Based on the relationship between colour and sound of colour-organ, and transforming composition like picture scrolling, she tries to make the works that transfiguring all the time.
website
http://akiko.co.jp